Hey,
This message is meant for frequent readers, fans of this website, C1 enthusiasts and basically for all of you who like this site or whom this site helped in any way.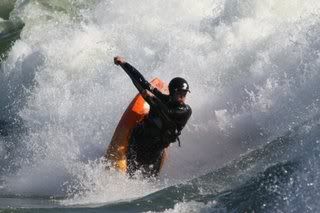 As you probably know I frequently compete in the C1 division in competitions around Europe. I also try to train on different spots as frequently as I can. All this requires money... Being a student I am not able to save enough money for both competitions/training trips and equipment. The fact that I have a paddle manufacturer and local bar for sponsors (free paddles and cheaper beer woohoo..:)) doesn´t help much.
Currently I am sorting out the money needed for the trip to the European Championship... I haven´t actually been able to go to any of the previous Champs (be it World or European) mainly because I lacked funds for the trip...
So if you would like to help me go to the this year´s EuroChamps held in
Ourense-Spain (23-26 July 2008)
continue reading. If not, thanks for visiting this website. I hope you enjoy it and that it has been and will be of use to you...
The amount needed for the
air ticket
is approximately
7000 CZK ( app. 410$ )
the
registration fee
is
60 euros (app. 94 $
.
How can you help me?
1.
You can just send me an encouraging email and say you like my site or whatever... Every single positive comment I ve read helped...
2.
You can post a link to my site anywhere you think it would be noticed.
3.
You can help me collect the money for the air ticket and the registration fee for the event and become a C1freestyle sponsor. (No... our association does not pay for its team members registration fees nor for anything else...)
How can you send me the money?
1.
You can send it by bank transfer. My
bank account details
are here:
IBAN code
: CZ6101000000358669740277
SWIFT code:
KOMBCZPP
Name :
Jan Liska
Address:
Psohlavcu 1499/55 , Praha 4
Prague
147 00
Czech republic
2.
You can send it by
PayPal.
Just click the button below.
3.
You can send it by post. My address is stated above.
What will you receive after you´ve given the donation?
If you provide me with your email address I will send you my personal thanks together with one of my photos in full resolution (it can be a photo of your choice if you specify one... most of the photos are good enough for posters). All the donations and donors will be published on
c1freestyle
together with specification of the use of their donation (i.e. air ticket or registration fee).
If you do not want to be published as a donor just let me know.
As soon as I´ve collected enough money for the ticket I will let you know on my blog. I will also publish the amount collected so far every week.
Thank you and enjoy c1freestyle blog!
Jan "Zoid"